We're sure you have questions —
Contact the owners to get them answered.
We look forward to speaking with you.
info@condocozumel.net
or call (469) 235-5839
Jan 4 - Apr 30: $310
May 1 - Aug 29: $300
Aug 30 - Dec 19: $290
Thanksgiving Week: $2600
Holidays : Dec 19 to Jan 3, 2015: $370/night
per night Plus 19% Tax

Includes maid service.
Chef service available upon request.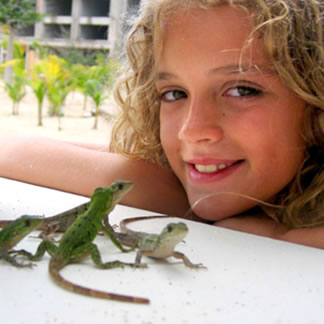 Five friends came together and picked the island of Cozumel
to create their beautiful ocean front vacation spot.
We invite you to share it with us.
Niro

—
is an attorney with the DOJ and lives in Davis, CA with her husband and two daughters. This home is her effort to recreate for her daughters the same childhood memories of many happy and carefree vacations spent by the ocean.

Indra

—
originally from Sri Lanka now lives in Orinda California with his son.
He's an attorney at Kaiser (but don't let that sway you)
His real passion is LOVE.

Anna

—
is a happy lawyer living in a houseboat in Sausalito California with her husband and twin boys.
She's always loved renting other people's wonderful second homes all over the world... and now she's excited to have her own!

Belinda

—
has been going to Cozumel since she was eleven when it was just sleepy fishing village.
She's a graphic and web designer who lives in Mill Valley California with her husband and son.

Judy

—
is a computer programmer living in Coppell Texas with her daughter and son.
She's looking for a partner who likes to dive and cook!
Frequently Asked Questions
I love the location, but are there other units available?

Yes! This effeciency unit is in the same building, same beach-front location: Residencias Reef Efficiency
These 1-bedrooms are in building 3: www.cozumello.com

Are there direct flights into Cozumel?

Yes, Cozumel has a small quaint airport with daily flights from many major cities. Please check online for the best rates.

Are their cultural events or festivals on the island?

Every Sunday night, the downtown plaza has live music and street dancing. There are also seasonal festivals that our management can tell you about upon arrival.

Do we need to rent a car?

Having a car is preferable. There are many small day trips around the island that are very fun. However, taxis are also easily accessible.

Can I get certified to dive in Cozumel?

Yes, please contact us directly for the options.

Do I need a passport?

Yes, as of 2007 all people entering Mexico by air need a passport.

Do I need pesos or dollars?

Both are accepted everywhere.

Can I use my credit cards?

Most places do accept them. Many add a % fee for use. Also, check with your CC company, most charge a currency conversion fee to all charges made in foriegn countries.

Is there a great hotel on the island with free golf?

Yes - http://www.playa-azul.com  is located on the north side of town and offers free golf at  a spectacular Jack Nicklaus Design Course with the price of a room.  It is a hotel with the clearest water on the island and great snorkeling right off the beach. 

Can we drink the water on the island?

It depends on your level of sensitivity. We provide purified drinking water at the condo.

Do I need to bring beach towels?

No. There are towels in the condo for you to use.

Is there a good grocery store available?

Yes! There is Chedraui, that has a good selection of food and goods. Don't miss the hand-made tortillas or the fresh baked pastries!! The pre-cooked chickens are a great, cheap, quick meal too.
If you have ANY other questions - don't hesitate to contact one of the owners
<--

Warning: file_get_contents(http://www.homeawayconnect.com/calendar.aspx?propertyid=375536&culturename=en-US&mode=1): failed to open stream: HTTP request failed! HTTP/1.0 404 Not Found in /home/condocoz/public_html/contact.php on line 292
-->
site design Studio B